WELCOME TO LAPERLE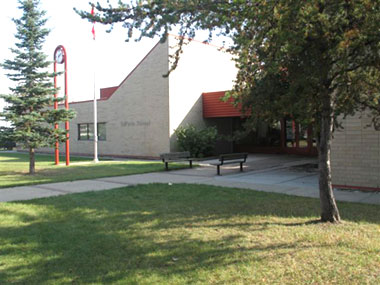 It is with great pleasure that I welcome you to La Perle School.
At La Perle School, we strive to empower our students to make positive choices by providing quality learning experiences in a warm, friendly, nurturing environment. With a strong focus on numeracy, literacy and leadership development, all staff members are dedicated to helping each and every student achieve success. As a collaborative inclusive community, we provide students with a variety of rich educational experiences and strive to Unlock COURAGE, Learn Through CONNECTION and Show COMPASSION daily together.
LaPerle is a school of 500 students drawing from the community directly around the school, as well as Rosenthal and Stewart Greens neighbourhoods.
We offer classes in grades one through six, morning and afternoon half-day Kindergarten and we are also a division site for a specialized program - Strategies which supports students with learning disabilities requiring smaller class sizes in a specialized program.
We are very fortunate to have so many parents support our students during our special events and on our field trips. This year, we look forward to working with even more parents and community members. All parents are welcome at our School Council meetings. We encourage you to check SchoolZone for these dates.
I am excited and proud to be the Principal of La Perle Elementary and welcome the opportunity to be a part of your child's educational journey. I invite you to stop in and share your thoughts, concerns, hopes and dreams for your children and for our La Perle community. I believe it takes a community to raise a child and together we really are better!
Respectfully,
Jodean Gagne
Principal of LaPerle